Why having explained certain kind of phenomena in a scientific way when you can have a more interesting and fanciful version? In this case folklore does help a lot!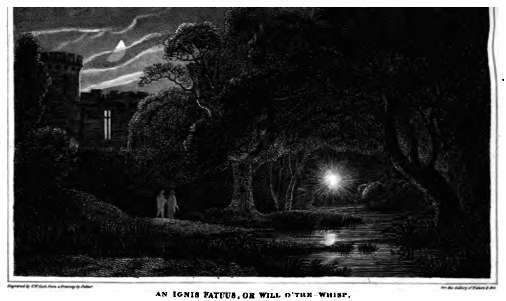 Science explains the Will O' The Wisp (or Ignis Fatuus – Latin for "foolish fire") event as atmospherical lights hoovering over marshes, cemeteries and bogs caused by burning gases that develops from the breakdown of organic matter in wet areas.
But, as for me, I really do prefer folkloristic "explainations" when these lights are often attributed  to mischievous spirits attempting to lead travelers astray and where we can read about ghosts, fairies and even the Devil himself. Sometimes the lights are believed to be the spirits of unbaptized or stillborn children, flitting between heaven and hell.
So, lets' start with Europe: in Denmark, Finland, Sweden, Estonia and Ireland it is believed that these lights mark the location of a treasure deep in ground or water; or as the Finnish mythology says there are spots where an eternal flame associated with will o' the wisps burns, called Aarnivalkea where you could find fairies gold.