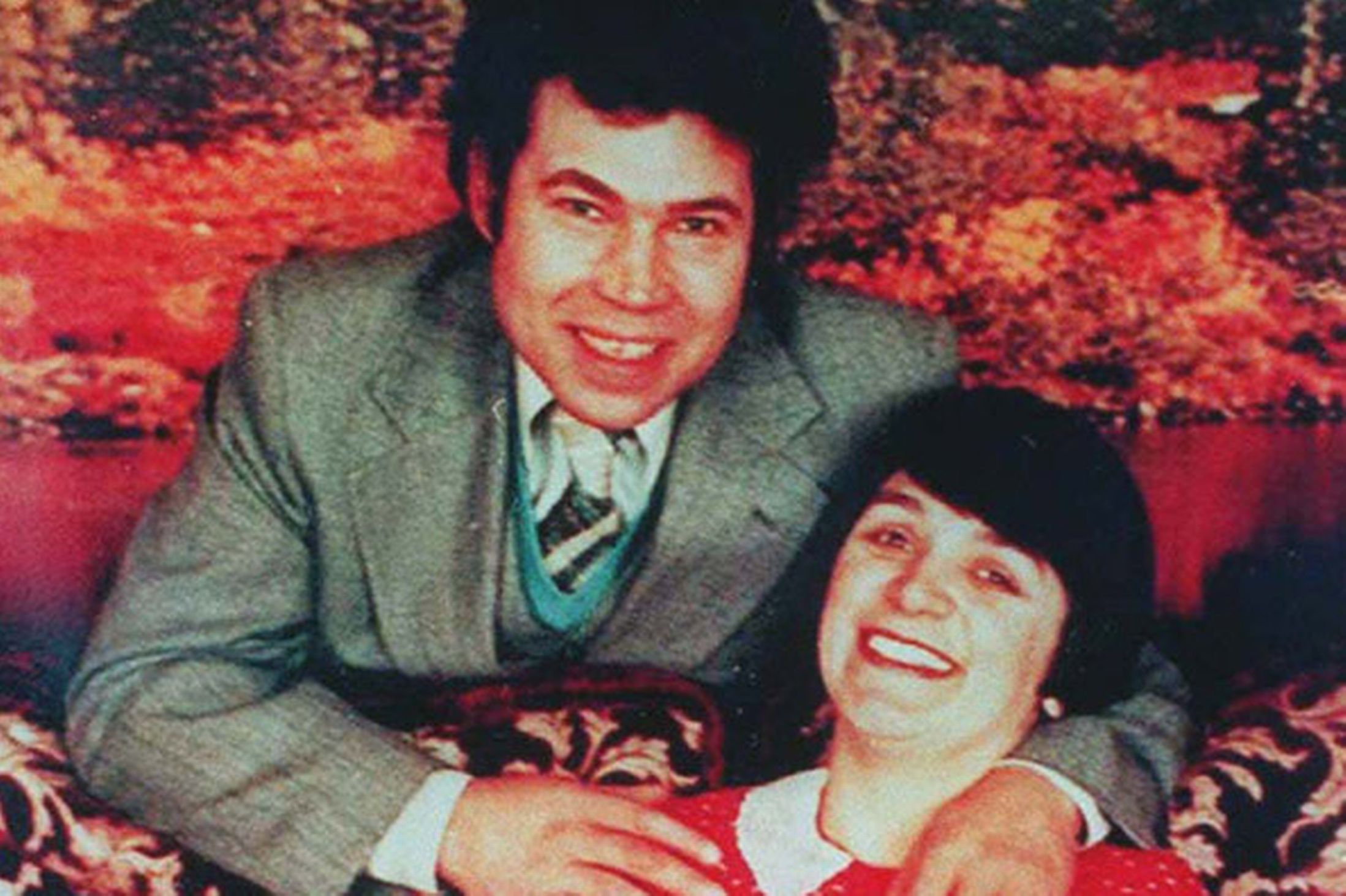 Appearance can be deceptive and truth is that the "lovely" couple you see in the picture above is one of the most famous (and cruel) couples of serial killers never existed. Fred West and his wife Rosemary during two decades were responsible for the deaths of at least 12 people, some of the victims were directly related to them.
Frederick "Fred" West was born in the small town of Much Markle in Herefordshire. He was the second of the six children of Walter Stephen West and Daisy Hannah Hill. By Fred's own account, sexual abuse of various kinds were common in the household; he claimed his father had sexual relationships with his daughters and taught him other disgusting stuff. It has also been suspected that Fred's mother started sexually abusing him when he was twelve, though he never admitted to it and it has never been confirmed, like the stories about his father. Fred left school at the age of 15 even though he was almost illiterate and got a job as a farm hand. At the age of 17, he was in a motorcycle accident that put him in a coma for a week, led to him having a metal plate operated into his head and breaking one of his legs so badly it was permanently shorter than the other, afterwards he got a bad temper and often had violent bursts of anger.
When Fred was 21 he resumed a romantic relationship with an ex-girlfriend, Catherine "Rena" Costello and though she was already pregnant with the child of a Pakistani man, they married and kept the child; to explain why the baby was half-asian, Fred had Rena write to her parents and say that the baby had died in childbirth and that her child, a girl she named Charmaine Carol, was adopted. They married in November and moved to Scotland together. The couple had a child of their own in July of 1964, a daughter named Anne Marie. During their difficult marriage, Fred worked as an ice-cream truck driver, a job that gave him plenty of access to available young women. Their life in Scotland came to an end when Fred accidentally ran over a four-year-old boy with his truck, though the accident wasn't his fault, Fred moved with his family as well as Isa McNeill, a girl who took care of their children and Anna McFall, a friend of Catherine, to Gloucestershire, where he got a job at a slaughterhouse. When her marriage collapsed, Catherine went back to Scotland alone but eventually came back as she missed her daughter and then she soon discovered that Fred had started a relationship with Anna McFall. In 1967, Anna became pregnant and tried to get Fred to divorce Catherine, in response, he killed, dismembered and buried her. Catherine left Fred a few months later, leaving their children with him. After the death of his mother in February, Fred started committing a lot of petty thefts and changed jobs a lot. It was during a stint as a bakery truck driver that he met his future wife and accomplice, Rosemary Letts.
Rose's parents' marriage was a turbulent one, with her father prone to violent behavior that resulted in her mother, Daisy, moving out of the family home, taking Rose with her. Rose, however, decided to move back in with her father again, which occurred around the same time that she became intimate with Fred West. She was soon pregnant with West's child and found herself looking after his two children by Rena Costello, when West was sent to prison on various petty theft and fine evasion charges. She gave birth to daughter Heather in 1970.
In the summer of 1971, Rosemary apparently snapped completely and killed Charmaine. After severing the body's fingers and toes, Fred buried it under their kitchen floor.
Though they married on January 29, 1972, Fred encouraged Rosemary to have sex with other men, both for money and for fun, and often watched her through a peephole. He also took erotic photos of her and posted them in swinger magazines as ads for prostitution. In June of 1972, they had another daughter together, Mae West. In order to make room for their expanding family and Rosemary's business, they moved to 25 Cromwell Street (known as the House of Horrors), where they carried out their rapes and murders. Over the following years, she gave birth to seven more children, of which three were fathered by Fred. Another may have been conceived by Rosemary and her own father, who kept engaging in incest with her even after she gave birth to her fourth child. The other three, who were of mixed race, were all fathered by her clients.
Over the next six years, they killed at least eight young women who made their way to 25 Cromwell Street as lodgers or employees together. The first was Lynda Gough, a seamstress the Wests knew personally. Next was Carol Ann Cooper, who disappeared while walking home from a movie theater. In December, Lucy Katherine Partington disappeared from a bus stop while on her way home after Christmas. She was murdered by Fred and Rosemary, who abducted her, held her captive for a week over New Year, raped and tortured her and then killed her. On January 3, Fred was treated for laceration, which is believed to have been inflicted when he dismembered Partington. From 1974 to 1979, five more women, Therese Siegenthaler, Shirley Hubbard, Juanita Marion Mott, Shirley Anne Robinson, and Alison Chambers, met the same fate. It's unknown if the Wests killed more over the following years. If they did, which is not improbable, the bodies weren't buried on their property. Some of the girls are known to have been abducted, raped, and then released. While committing murders, Fred also sexually abused Anne Marie West, his daughter from his relationship with Rena Costello. She eventually became pregnant, but the pregnancy had to be terminated, when she left home, he started abusing Heather West, who was conceived by Rosemary and possibly her own father, and one of his own daughters, Mae West. Fred disposed of the victims by burying them under the garage of the house or in the garden. The couple came close to being exposed in 1986, when Heather told her friends about the abuse she suffered. In June of the next year, Fred and Rosemary strangled her to death to silence her. She was then dismembered and buried in the garden. The Wests were finally exposed in May 1992, when Fred videotaped himself raping one of his daughters. When she told her friends, one of them reported the Wests to the police. The investigating officer, Hazel Savage, had heard of Fred while he was in a relationship with Rena Costello. When another girl raped by Fred came forward, the police obtained a search warrant. In August, they searched the house for evidence of child abuse. Fred was arrested for rape and sodomy of a minor and Rose was arrested as an accomplice. While they were being processed, their younger children were placed in the care of the government. Hazel Savage became increasingly suspicious of the Wests' past and was able to obtain a search warrant to have the property dug up. When human bones started cropping up, Fred confessed to having committed the murders alone in order to protect Rosemary. However, he would not admit to raping any of his victims, saying they had wanted to have sex with him. Soon enough, the bodies of Anne McFall and Charmaine West turned up as well. Seeking to protect herself, Rose cut off all contacts with her husband. On December 13, 1994, he was charged with a total 12 murders. On New Year's Day, he hanged himself in his cell with a knotted bedsheet. Rose was found guilty of 10 murders and sentenced to life in prison. She will be never released. Though she maintains her innocence, she announced in 2001 that she will not try to appeal her conviction. In 1996, 25 Cromwell Street was completely demolished and the site turned into a pathway.